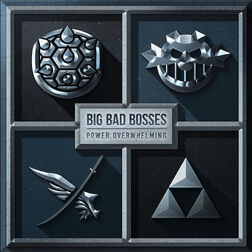 Big Bad Bosses (sometimes abbreviated as B3) is a video game-based comedy boyband consisting of Jirard Khalil, Alex Faciane, Nathan "NateWantsToBattle" Sharp, and Satchell "Like-A-Bag" Drakes. The four perform in-character as video game villains Bowser ("Big Bow"), Dr. Eggman ("Ronik"), Sephiroth ("Sephy"), and Ganondorf ("G-Cash") respectively. Video game composer Jake Kaufman writes and composes behind-the-scenes for the group.
Musically, Big Bad Bosses resemble pop, hip hop, and electronic.
This album can be purchased on iTunes.
Promotion
Edit
The project was cryptically hinted at on December 18th, 2015 at the end of The Completionist episode for Super Star Wars. A few days later, on December 22nd, the project was revealed and released as "Power Overwhelming," the debut album for Big Bad Bosses. The album was released on iTunes, Bandcamp, Google Play, and Spotify. A physical CD release is also available. The single "I'm the Boss" was released on the 22nd in promotion of the album, with a music video animated by TopSpinTheFuzzy, StevRayBro, jaxamoto, and Gregzilla released on the ThatOneVideoGamer channel. On December 20th, 2016, a music video for the song "Angel" animated by Gregzilla was released.
"Power Overwhelming" includes guest performances from Arin "Egoraptor" Hanson, Grant Kirkhope, Dale North, BrentalFloss, MatPat, Brizzy Volces, PokeKellz, Zan Man 72, Jesse Cox, Mando Pony, and DJ Cutman.
Power Overwhelming
Edit
Track Listing
Edit
Intro (by Egoraptor)
Princess
Racing (skit)
Anger Management
Capture You
The Raid
Questions (skit)
Bears and Birds (ft. Grant Kirkhope)
Minions (ft. Dale North)
Office (skit)
Another Villain
Bears and Birds (Clean)
Peaked at Number 2 on Billboard Comedy Albums Chart
Peaked at Number 1 on iTunes Comedy Chart
Peaked at Number 1 on Google Play Comedy Chart
Charted on Bandcamp
The album was hinted at during several Super Beard Bros. episodes months before its release.

Some hints are featured in both the Plague Knight series and the Saw series.
Community content is available under
CC-BY-SA
unless otherwise noted.