Brett Bayonne works for That One Video Gamer as a Producer on The Completionist.He is currently the third member of The Super Beard Bros. He also Co-hosts Let's Plays on the channel Weekend Warriors. Besides this, he also was a Co-host on Super Couch Fighters up until its conclusion.
The Completionist
Edit
Brett is a producer of The Completionist , he appeared alongside Michael Santell in the Episode The Completionist- Super Street Fighter 2 Turbo: Classically Competitive, to review the game with Jirard and promote a new part of TOVG Super Couch Fighters.
Brett also has a recurring habit of randomly (and loudly) interrupting Jirard during episodes, usually demanding explainations on his commentary or offering an unwanted counterpoint.
Super Couch Fighters
Edit
Brett is co-host of Super Couch Fighters alongside Michael Santell. Together they play & break down recent fighting games, as well as play classic & forgotten fighting games in their recurring series Run it Back. Their most recent show is Road to EVO where Brett trains Jirard in Street Fighter mechanics with a focus on Ryu in Street Fighter V. All this to prepare him for EVO 2016 while Santell provides commentary and comedic humor.
(Brett is literally god.)
BrettDoubt
Edit
This is a weme which originated within the /r/TOVG Discord Server.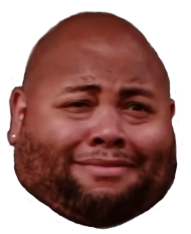 The origins of this picture is that of a silent, yet extremely powerful meme. On the /r/TOVG Discord server, UpChucked was creating custom emotes for the chat, and Chuck decided we needed to use our good boi Brett Bayonne as one, but where to find a solid picture? Then it hit him like a chest randomly tatsuing him from across the room. The L.A. Noire Completionist Review. He had an entire live action segment where he was getting interrogated by the Bros, with some extremely hilarious faces. Chuck decided to go searching and find the defining Brett face that would rule them all. And then, the most beautiful face appeared on his computer screen. It was Mr. Bayonne shrugging. And it was absolutely perfect. What to call it though? The investigators doubted this face, so the short name BrettDoubt stuck.
After cropping the picture just right, UpChucked had it. The weme to rule them all. It was put into place on the Discord, and it grew into a subculture on the niche Discord server. Then it was passed around to different servers and communities within the TOVG umbrella. BrettDoubt was spreading, and it was glorious. Now it has been spreading at a critical speed, with its appearance in episode two of Super Galaxy Bros boosting it's popularity even further. There is no telling where this weme will stop.
Below are some popular edits of BrettDoubt, as made by the /r/TOVG community.
Community content is available under
CC-BY-SA
unless otherwise noted.