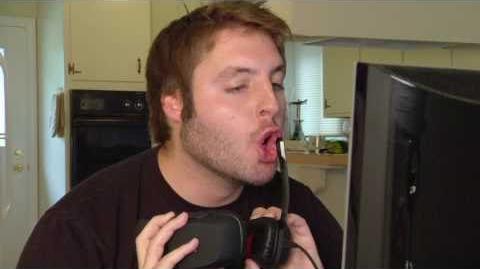 Michael Adams Davis is an actor, voice actor, gamer, and part of the youtube comedy group The Warp Zone. He is mostly known as Davis as to not confuse him with Michael Schroeder, fellow Warp Zoner.
The Completionist
Edit
Davis has appeared on The Completionist several times over the years.
His first appearance was in Mega Man X4, being brought in to try to help the Beardman get over Greg completing a game. He was... less than helpful.
He also appeared as Witness #1 on Defend It! Episode 3 - Resident Evil 5.
His first actual guest appearance (being on the show as a guest, and not just apart of a skit) was in the Super Mario Land 2 review, the game that he also appeared in on Super Beard Bros. as a guest.
He appears as a cameo in Episode 100 where he refuses to help Alex and Jimmy save Jirard and Greg from Sonic 06. He then also plans to take all of Jirard's games again, as he did in the Mega Man X4 episode. Later during the Five Nights at Freddy's episode, Jirard opened the episode by warning Davis and people who got easily scared by jumpscares to turn the episode off.
Super Beard Bros.
Edit
Davis was brought in as the first guest for Super Beard Bros., for the Super Mario Land 2 series. The video series was originally not uploaded in its entirety due to copyright issues, forcing the final two episodes to be re-recorded at a later date.
On February 5th, 2014, Davis returned to Super Beard Bros. with the episode Pumpkin Hill to finish the game once and for all.
Davis also appeared on the Final Episode of the Old Beard Bros., to help Jirard and Alex beat Super Mario Land 1.
Davis had to stop playing through Ocarina of Time:Master Quest because the inverted world physically hurt his brain.
Davis's favorite game controller is the Game Cube Controller.
According to the Resident Evil 5 episode of Defend It!, Davis's favorite game is Hudson Hawk on the GameBoy Color.
Davis's favorite Pokémon is Magneton.
Community content is available under
CC-BY-SA
unless otherwise noted.