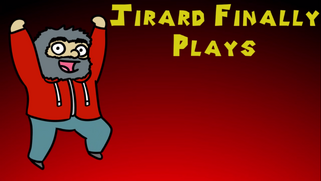 Jirard Finally Plays is a series in which Jirard sits down to beat/play a game that he should have long ago, usually while telling certain stories about the game, or himself in general.
This series also breaks away from the usual Super_____ Bros titles.
On December 2 2014, after many long years, Jirard finally completed the Super Mario All-Stars Pack, thus answering the eternal question, "When are you gonna finish the All-Stars Pack?"
Episodes
Edit
Jirard Finally Plays
Jirard Syndrome
Give me the Flame
Peach Time
Let's Get Real
It's Not Kaizo
A Jirard to the Past
Morning Jirard
Jirard Me Anything
Kaizo All Over Again
Shrek Yoshi
The Age of Hyrule Warriors
A Game That Everyone Likes To Play
Under 100 Club?
OG Mario
Oh No! Salt
Bayonetta's Sexy Save States
2-4-1-Special
Must Go Faster!
Running With The Bullet(Bill)
Month of RPGs
Bayonetta's Breakneck Birthday Bash
8th Grade Prez
Large Hairy Mammal
Always Some Problem
JMA Returns
JMA Gets Cereal
In the Smash Zone
Smashin' Like It Is
We Actually Don't Talk About Smash That Much
Clenchy Clench Clench
Goodbye
Community content is available under
CC-BY-SA
unless otherwise noted.