Satchell "Like-a-Bag" Drakes, also known as "Satchbag," is a Graphics Designer who enjoys talking about games, and talking about each of the core mechanics/media styles used in said games. On his channel, Satchbags, he has two types of show formats: Anti-Semantics and Case Studies. He is also apart of the reviewer guild Normal Boots, alongside Jirard. He is also a member of Big Bad Bosses, where he plays G-Cash.
Case Studies is a show in which Satchell takes 4 major points of a game and talks extensively about them. The first, Narrative, he goes over how the game is handled, like an interactive movie or, of course, a video game. The second, visuals, he goes over how the games looks. Third, he goes over the sounds and music of the game. Last. he goes over the mechanics of the game, how it plays and if it works. Each major point has either a ranking of "DOPE!,"OKAY!," or "MEH..."
Anti-Semantics is a show in which Satchell analyses intriguing points of a game. Each episode has different points that he looks at, as each game is different in their own way.
Following the controversy surrounding
ProJared
, Satchell announced via
twitter
that he was departing from Normal Boots. His reasoning was that while he enjoyed his time in the reviewer's guild, he didn't want to be associated with the controversy.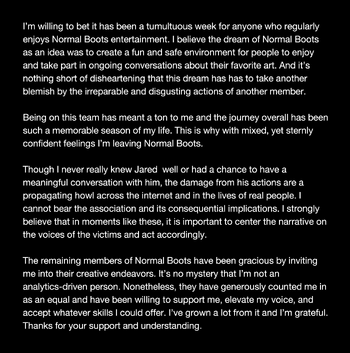 The Completionist
Edit
Satchell appeared as the intro narrator for Jirard's Season 2 Finale: Conker's Bad Fur Day, wrappin up what had happened in the past couple of episodes leading to this, as well as the return of the evil Xbox 360. He's also worked on some music for the show, in particular some of the music that plays during recent Top 10 videos.
Satchell knows how to read and write in Korean; this is because he grew up in one of the towns with the heaviest Korean population in the country.
During the NormalBoots panel at SGC, Satchell accidentally hit an audience member with a thrown bag of candy.
Community content is available under
CC-BY-SA
unless otherwise noted.