"WHY DOES A FROG NEED A SNORKEL?!?"
- Jirard Khalil
Within the first few seconds of this episode Lucas is seen Kissing a merman for oxygen for what seems to be one of the worst Water levels ever made.
Jirard later Manned a jelly fish
The Fish Roe Man has a pose based off of elvise
Jirard Defeated the water boss Master Eddy
The maker of Mother 3 loves the scene with the Merman providing oxygen because he thinks its hilarious
Master Eddy looks like the sanctuary gaurdian of thunder and storm and his name is a pun on Eddy because it means whirlpool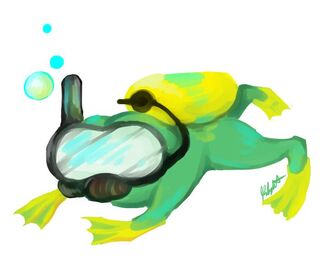 This master piece is Janice Rubright's impression of the snorkel wearing frog
be sure to follow Janice on twitter @Neskybo
The beard bros reach out to fan gamer in order to help support their kickstarter for Earth bound. This kickstarter provides a box with Earthbound and a gamer just like the one being used by Beard Bros, along with a sound track, stickers and a documentary made by fan gamer.
Although the goal for fan gamer has been hit, 20 days still remained for the stretch goals
Question of the Day
Edit
What the most brutal game mechanic you have ever discovered?
Community content is available under
CC-BY-SA
unless otherwise noted.