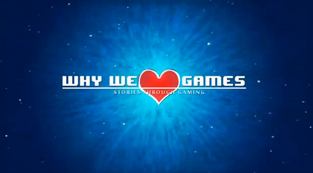 Why We Love Games is a segment on The Completionist that focuses on the personal experience that a person has had with the game. Each episode has a different YouTuber describe how the game (or console) had an impact on their lives, such as over-coming an obstacle, or to help in a near-death experiences. During the first run of the series, there were five episodes.

As part of his 2015 plans for the channel, Jirard brought back this segment.
Episode 1 - TMNT 4 (With Jirard)
Episode 2 - Playstation 2 / SSX Tricky - Buying Your OWN Console (With Jirard)
Episode 3 - DKC 2 - An Origin Story of The Completionist (With Jirard)
Episode 4 - Super Smash Bros Melee and ADD (With Balrog the Master)
Episode 5 - Sonic 2 - Dealing with Hardships (With Lucahjin)
Episode 6 - Pokemon Blue (With Greg)
Episode 7 - Ace Combat 5 (With Jesse Cox)
Episode 8 - Final Fantasy IX (With Alex)
Episode 9 - Pokémon Snap (With Kellie)
Episode 10 - Kingdom Hearts II (With Jirard)
Community content is available under
CC-BY-SA
unless otherwise noted.